Posted by Ruth Mercurio, Professional Olive Oil & Wine Taster on 18th Jun 2021

Mediterranean EVOO
Undoubtedly, the Mediterranean region is one of the most beautiful and culturally rich places in the world. However, besides giving us the Greek and Roman civilizations, it has given the world a key to extraordinary health benefits. Namely, the Mediterranean diet. Moreover, olive oil is a vital ingredient that the Mediterranean diet depends on for flavor and nutrition. Therefore, we put together this guide for all our customers who frequently buy authentic extra virgin olive oil at the WE OLIVE olive oil store, so they too can delight in delicious Mediterranean meals that are incredibly healthy and add years to our lives.

Continue reading to find out the answers to the following questions. What is the Mediterranean diet all about? What should you have in your pantry to cook plenty of Mediterranean meals? What can you drink, and what foods should you avoid? What are some easy-to-make Mediterranean recipes?

What is the Mediterranean diet?

Twenty countries in total border the Mediterranean Sea. Each has its own unique culture and local cuisine. Does that mean that they all contribute to the Mediterranean diet? Not at all. The primary countries or regions that reflect the ancient traditional Mediterranean diet are Crete, Greece, and southern Italy. Historians have confirmed that for centuries, residents from those countries and regions have enjoyed some of the lowest chronic disease rates and some of the highest life expectancies in the world. Their findings are in line with extensive studies performed by epidemiological and nutrition researchers. Below we go into detail regarding the various Mediterranean and extra virgin olive oil benefits.

According to historian Erla Zwingle, olive oil has been valued through the ages in the Mediterranean region as food, salve, fuel, and sacrament. Still today, EVOO is considered to be liquid gold unmatched among any other type of oil. What is the reason why olive oil has remained essential in this part of the globe? Mainly because olive trees flourish due to the Mediterranean climate and terrain. In fact, California is one of the few places in the world that offers remarkably similar elements. Thus, the products at WE OLIVE olive oil store have equal quality and health benefits because they are produced by local California farmers that give extra care to every olive tree and the EVOO production process.

Health benefits from the Mediterranean diet

According to continued research in the past decades, there is no doubt that people can reduce mortality and causes and prevent developing various conditions if they adhere to the Mediterranean diet. The reason? Because extra virgin olive oil is the heart of practically every meal. Consider some health benefits from the Mediterranean diet:
Reduction and protection from diabetes. – The Mediterranean diet has proven extremely successful in lowering the risk of developing type 2 diabetes or reduces its effects for those who have had it for many years. In fact, a recent study from Cambridge University has shown that the Mediterranean diet is better than other common diets, such as the ones that promote low-carb consumption because it allows diabetic patients to lower their blood sugar levels significantly. This fantastic benefit is due to the fact that such a diet is high in fiber, complex carbohydrates, fruits, vegetables, and of course, EVOO, which has spectacular anti-inflammatory properties.


Reduced risk of developing Heart disease. – The Mediterranean diet's healthy fats improve a person´s overall cardiovascular health and lower bad cholesterol (LDL) levels. Moreover, the first research performed in Mediterranean countries a few decades back showed that cardiovascular diseases were practically non-existent.
Reduces the risk of developing some forms of cancer significantly. – The nutrients provided by the variety of ingredients in the Mediterranean diet have been shown to reduce the risk of developing some forms of cancer such as colon, prostate, and breast cancer. Some of those nutrients are omega-3 fatty acids, vitamins E and C, selenium, and antioxidants. Additionally, the EVOO provides polyphenols that promote good circulation and blood pressure, and wine provides resveratrol, which provides healthy red cell production.
Weight loss. - Contrary to popular belief, the Mediterranean diet's richness in fats does not make a person gain weight since they are good fats that the body thrives from. Furthermore, the Mediterranean diet is low in calories and rich in fiber, contributing to healthy digestion. It has been proven that those who follow this diet can stick to it because the meals are delicious and it is not restrictive.
Improves mood and concentration. – Thanks to the numerous anti-inflammatory foods and ingredients in the Mediterranean diet, we can enjoy neuron protection. Thus, resulting in a better mood, reduced depression, and improved concentration. Moreover, scientists have found that the Mediterranean diet reduces the risk of cognitive decline dramatically and developing conditions such as Alzheimer's disease.

What foods and ingredients does the Mediterranean diet include?

The Mediterranean diet combines several elements and ingredients. The result of such extraordinary combinations is where the secret of the health benefits mentioned earlier lie. Besides, it looks incredibly beautiful and appetizing on the plate, and it's a delight to our palates! Therefore, here is a list of foods and ingredients that you should keep in your pantry to be ready to prepare meals and snacks every day.

First and foremost, you should always have authentic EVOO found at WE OLIVE olive oil store. Next, consider the following list next time you go shopping:
Greens and vegetables
Garlic
Onions
Tomatoes (fresh, canned, and sauce)
Leafy greens
Bell peppers
Artichokes
Beets
Cabbage
Peas
Broccoli
Squash
Carrots
Asparagus
Fruit
Lemons
Apples
Figs
Peaches
Oranges
Cherries
Tangerines
Pears
Apricots
Watermelon
Cantaloupe
Grapes
Plums
Avocadoes
Pomegranates
Protein
Sardines
Calamari
Anchovies
Whitefish
Shrimp or other shellfish
Octopus
Tuna
Wild salmon
Chicken and eggs
Ground beef, Veal, Pork (in small portions)
Dairy
Greek yogurt
Feta cheese
Ricotta
Mozzarella
Parmesan
Nuts
Pine nuts
Almonds
Sesame seeds
Pistachios
Walnuts
Peanuts
Sunflower seeds
Cashews
Pumpkin seeds
Beans and Legumes
Chickpeas (garbanzo beans)
Kidney beans
Black beans
Pinto beans
White beans
Hummus
Lentils
Whole grains
Brown rice
Quinoa
Oatmeal
Whole-grain bread and pita
Herbs and spices
Basil
Bay leaves
Cilantro
Mint
Parsley
Oregano
Cumin
Dill
Allspice
Cinnamon
Pepper
Sea salt
Liquids and other foods
Tahini
Herbal teas
Frozen vegetables (spinach, green beans, peas)
Wine
Tomato paste
Capers
Sun-Dried tomatoes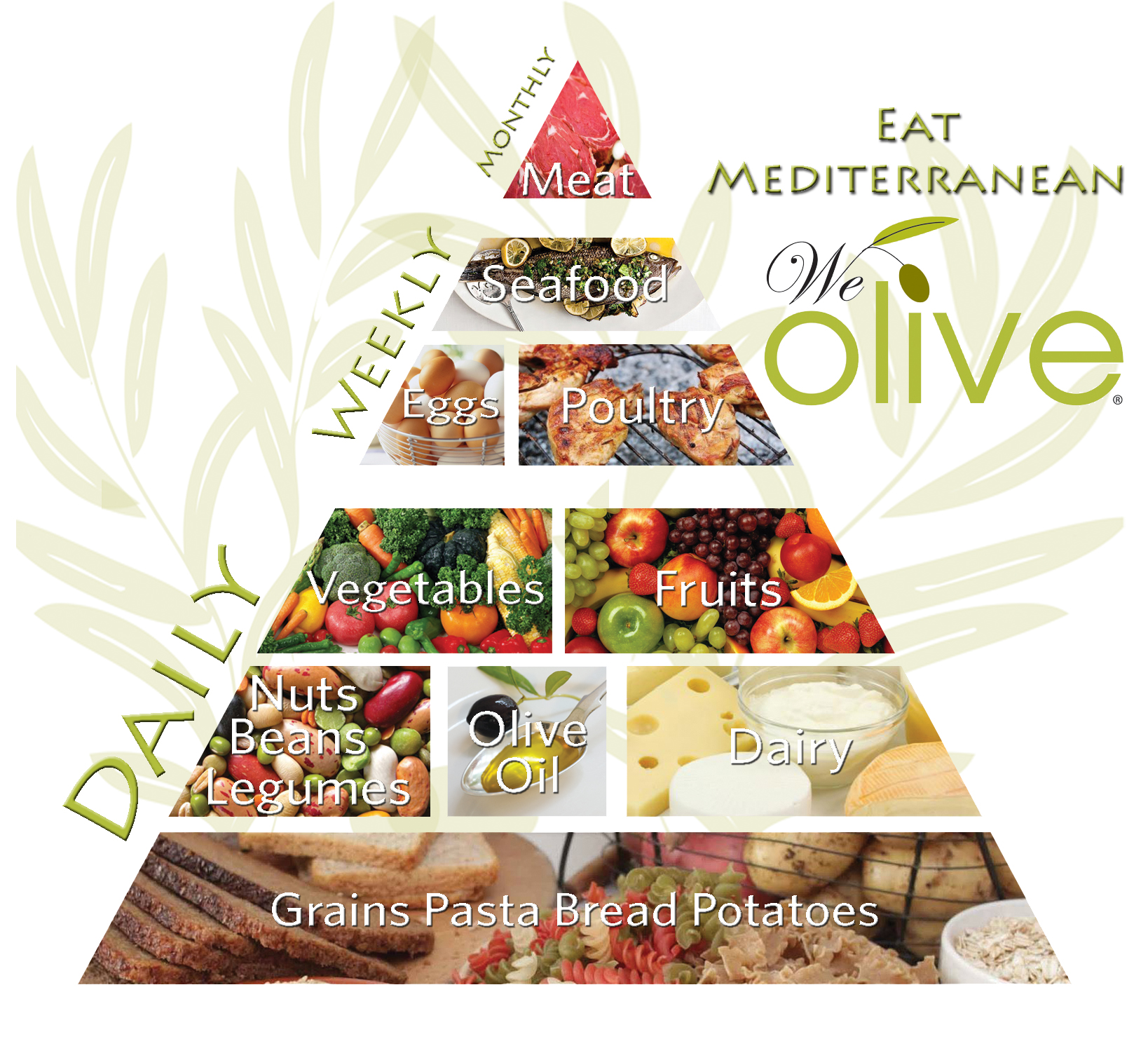 What to drink

The Mediterranean diet puts a strong emphasis on staying hydrated with plain water. Of course, wine is essential during lunch or dinner. Additionally, one to two cups of coffee can be consumed, but herbal teas are a great source of antioxidants and help stay hydrated.

What to avoid

If you wish to enjoy the full benefits of the Mediterranean diet, you should try to avoid the following 4 foods and ingredients altogether:
1.Refined grains. - found at white bread, white pasta, and baked desserts
2.Added sugar. – in foods, liquids, and flavored or low-fat yogurts
3.Refined oils. – refined oils such as canola, sunflower, corn, sesame, and vegetable oil generally eliminate nutrients found in the Mediterranean diet. Hence, just stick to the phenomenal EVOO found at WE OLIVE olive oil store.
4.Processed foods. – One of the reasons why Mediterranean meals are so nutritious is that they have natural, fresh, or organic ingredients. Granted, you should avoid processed foods and junk food.
Recipe ideas and meal prep

Have you enjoyed reading this article? If so, you still have much to look forward to as we will be providing excellent recipe and meal prep ideas in our social networks. Also, you can visit our recipes section, where you will find numerous ideas to prepare delicious and nutritious Mediterranean meals. Remember, authentic extra virgin olive oil is vital in the Mediterranean diet to enjoy all its tremendous benefits. Therefore, shop today for authentic Mediterranean foods and ingredients in our WE OLIVE olive oil store!