Posted by Ruth Mercurio, Professional Olive Oil & Wine Taster on 15th Oct 2021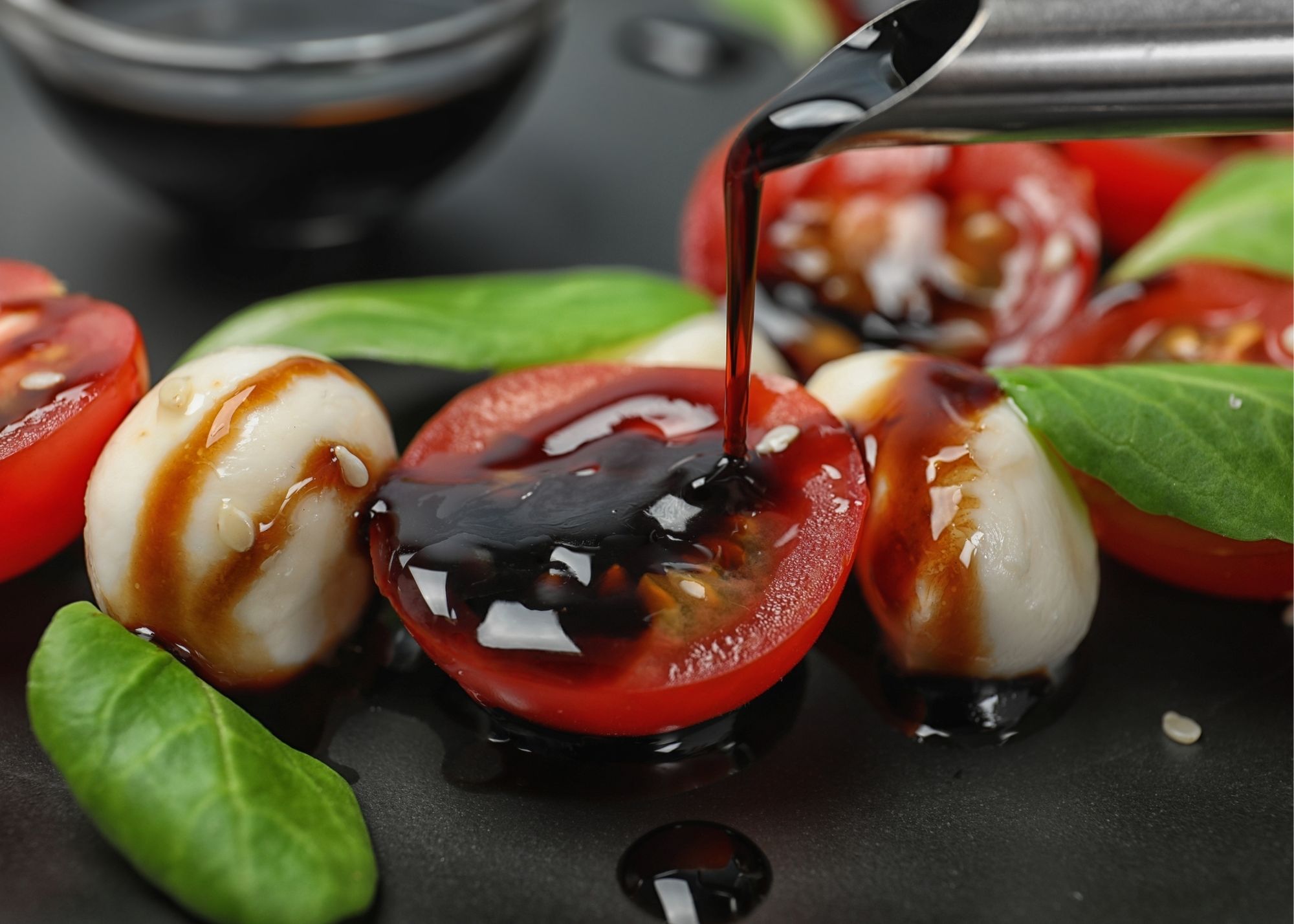 Are you a foodie or a fan of Mediterranean food? Wouldn't it be great to enjoy the most authentic flavors of that delicious cuisine that has crossed borders thanks in part to balsamic vinegar and extra virgin olive oil? Today, it is possible thanks to our local California producers and We Olive's olive oil stores that bring us the best balsamic vinegar and EVOO who have kept the traditional and artisan methods to preserve its extraordinary unique elements.
Balsamic Vinegar Makes Recipes Stand Out

It has been said that one of the greatest pleasures in life is enjoying good food. Why is that so? Because a meal can make special occasions even more special, transmit emotions and make memories. That is why today we will talk about how you can make your meals memorable with balsamic vinegar, a simple yet incredibly sophisticated tasteful ingredient.

Balsamic Vinegar - A Unique Flavor

As you may very well know, the longer you let a bottle of wine age, the better its flavor will be. Something very similar happens with balsamic vinegar, which also comes from grape must. Due to its careful processing of selected grapes, which can also take years, it has distinctive flavors that delight our palates.

What makes it so special? Aged balsamic vinegar stands out for its robust flavor characterized by its perfectly combined acidic, bitter, and subtly sweet notes. In turn, that factor makes it very versatile when it comes to cooking. It is worth mentioning that some concentrated presentations use a thicker consistency, which produces an intense toasted color.

Moreover, at We Olive's olive oil stores, you will find a remarkable variety of flavored balsamic vinegar to create even more tasteful dishes, including blackberry balsamic vinegar, peach, or pear white balsamic, blood orange, or fig balsamic, and so many more.

Prepare incredible recipes with balsamic vinegar

Balsamic vinegar can be used with only a few other ingredients or with different sophisticated ones. In fact, some chefs have created outstanding recipes using various kinds of balsamic vinegar for desserts and cocktails!

Here are just a few examples that use balsamic vinegar to make recipes stand out:
This is one of the most popular ways to find balsamic vinegar in meals. It is excellent to enhance all kinds of salads, whether for the autumn or summer, Tuscan, Italian, Greek, with various fruits, or any other kind. They are generally prepared in a vinaigrette, with authentic EVOO and seasonings that create a party in your mouth!
Do you like meat roasts and streak? Who doesn't? Well, balsamic vinegar is ideal for giving intensity to the flavor steaks and softening its fibers. You can marinate it a few minutes before with other spices if you like, and then just put it in a pan or grill. Similarly, when offering appetizers that have aged cheeses, you can include one with a touch of vinegar to elevate the dining experience.
When we talk about balsamic, we do not limit ourselves to vinaigrettes. The most delicious aged balsamic vinegar is also commonly used in oriental and Asian foods and from many other countries. Used in hot dishes, it reduces its intensity and gives a special touch to chicken, vegetables, risottos, and even some broths.
What's for dessert? That's a great question! Yes, balsamic vinegar can enhance the flavor of many desserts. It especially combines very well with ice cream and red fruits. For example, when marinating strawberries or raspberries, you can add a few drops and see the delicious contrast it will cause on your palate.

Easy and surprising recipes

From theory to practice! What are you waiting for? Try the following easy recipes that you can achieve with very simple ingredients and easy instructions. Next, our chefs share with you some recipes for dessert, a vinaigrette, and a simple dish that all your guests will love.
Ingredients:
4 tangerines (peeled segments)
2 grapefruits (peeled wedges)
1 orange (peeled segments)
4 walnuts finely chopped
2 tablespoons of sugar
2 tablespoons balsamic vinegar
Fresh mint leaves
Powder sugar
Instructions: Mix the first 6 ingredients in a bowl and rest for 15 to 30 minutes. Serve in glasses and decorate with icing sugar and fresh mint.
Ingredients:
1 tablespoon of vinegar
1 tablespoon of mustard
2 tablespoons of genuine extra virgin olive oil
1 tablespoon of honey
Salt and pepper
Instructions: In a container, mix the ingredients. You can change the portions until you find the flavor of your liking and add it to your favorite salad
Ingredients for salmon:
Salmon fillet
½ tablespoon of butter
Salt and pepper
Ingredients for the sauce:
1 tablespoon of California EVOO
1 tablespoon of balsamic vinegar
1 tablespoon of lemon juice
½ tablespoon lemon zest
1 tablespoon of brown sugar
Procedure: Heat the oil and butter in the skillet over medium heat, cook the fillets for 2 to 3 minutes on each side, and season with salt and pepper. Then, dissolve the sugar in the other ingredients of the sauce and constantly add the sauce to the steak for another 6 to 8 minutes over low heat. When the salmon turns from deep orange to pink, you know it's done.

5 tips when using balsamic vinegar

As you can see, using balsamic vinegar in your recipes is quite easy. Dare to experience new flavors and dishes at home. Here are some helpful tips to keep in mind when using aged balsamic vinegar:

1. Before using it for salads, check the concentration of your vinegar. Do not forget that it has a very intense flavor, so you can generally add a maximum of one teaspoon per serving.

2. Balsamic vinegar, although it has many health benefits, also has some sugar content. Thus, if you mix it with other caloric ingredients, it is best to consume it in moderation.

3. As the intensity of hot dishes decreases, many chefs use it shortly before removing the food from the heat to retain its aroma.

4. In salads, the order of adding the dressing is: 1) add the salt, 2) add the balsamic vinegar, and 3) add the EVOO.

5. Preferably keep it away from heat and light exposure. Although it keeps very well once opened, it is best to keep it in a cool place.
Find the best balsamic vinegar

Clearly, aged balsamic vinegar is a unique flavor that manages to enchant even the most refined palates. It provides incredible flavor twists, enhances flavors, and whets your appetite. If you want to try the best quality balsamic, shop online now and use our olive oil stores near me tool, where we have multiple options for every palate.

If you have any questions about how to buy our products or have a special request, do not hesitate to email us at info@weolive.com or call us at 805 238 2900. Also, follow us on our social networks so you can find out the latest news and recipes!