Posted by Ruth Mercurio, Professional Olive Oil & Wine Taster on 23rd Aug 2021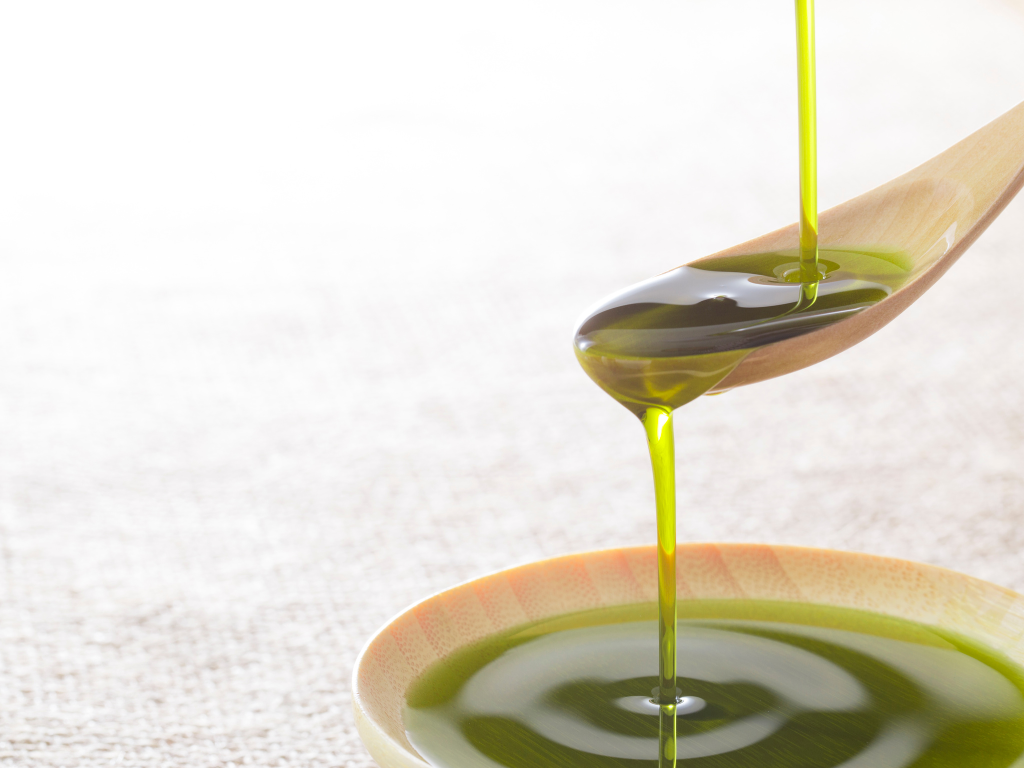 It is no secret that buying authentic EVOO at We Olive's olive oil store is actually an investment because you are not only shopping for top-quality foods, but you are also adding healthy years to your life. But have you heard of the benefits thanks to its High-Polyphenol Oil richness? Well, you are about to find out.
Benefits of High-Polyphenol Oil in EVOO
What are polyphenols? Most plants, vegetables, seeds, and fruits have a chemical component called polyphenols that protect against external damaging factors, such as ultraviolet rays. In the human body, polyphenols have the ability to provide properties that strengthen our metabolism.

While it is true that our body naturally already produces antioxidant agents that provide nutrients and elements that prevent the wear and tear of our cells, sometimes they are not enough. Consequently, we could develop some unwanted diseases. However, including EVOO as part of a healthy diet rich in polyphenols will help us fill in these deficiencies and, therefore, be stronger and healthier.

These are good reasons to visit and shop at We Olive's olive oil stores either online or onsite since we carefully offer high-quality products handcrafted by skilled California producers.

What are the health benefits of Polyphenols?

Consuming genuine extra virgin olive oil rich in polyphenols allows us to create a balance in our body that translates into excellent health. When can our body experience a loss of such balance? When our cholesterol, blood pressure, and glucose levels, and other substances are outside healthy parameters. As a result, we may experience a series of conditions or complicate present chronic diseases.

On the other hand, if on a day-to-day basis you incorporate at least two tablespoons of EVOO, which is remarkably high in polyphenols, into your diet, you will experience at least the following 7 benefits in your health both in the short and long term:
Increased antioxidant agents to combat disease
Strengthened immune system
It will regulate your blood pressure
It provides excellent anti-inflammatory properties
It keeps the bad cholesterol under control and increases
Reduced risks of heart attacks
It prevents developing strokes and heart disease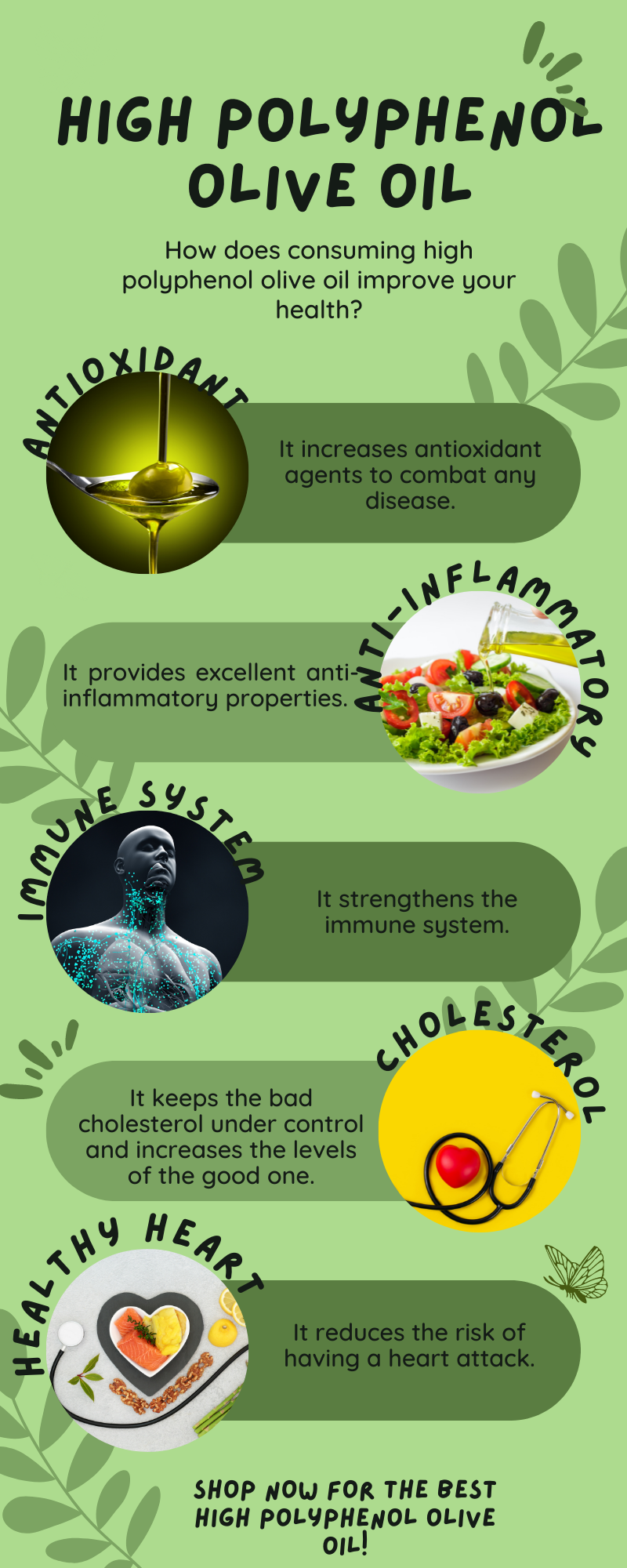 Where can you find natural polyphenols?

In food, we can find a wide variety of different types of polyphenols. Each one has other characteristics in its phenolic compounds. Next, let's see where we can find the main families of natural polyphenols:

●Simple Phenols: Also known as phenolic acids, coumarins, and benzoic acids. This family of polyphenols is found in foods that we regularly consume, small fruits such as cherries, blueberries, and plums. In addition to these foods, we find phenols in green tea, black tea, and olive oil.
●Condensable and hydrolyzable tannins: We find this family of polyphenols in different fruits such as apples, grapes, strawberries, and berries.
●Flavonoids: This is the most abundant of the phenol family. We find more than 4000 natural elements in this compound. We can find it in more foods, such as fruits and vegetables, especially in their peels. Therefore, consuming part of the peel is better to make the most of the polyphenols. We find them in greater quantities in citrus fruits, onions, parsley, legumes, and chocolate.

Therefore, polyphenols are chemical components in almost all the foods we eat daily. These help us because they have anti-aging and even anti-tumor properties. Consequently, eating a diet rich in foods such as high polyphenol olive oil is essential to take advantage of all its possible benefits.

What are the polyphenols that olive oil contains?

As we saw previously, the family of polyphenols is extensive. In the best olive oil, various types of phenols can be extracted. Among them are Oleuropein aglycone, Tyrosol, Hydroxytyrosol, Oleocanthal, Luteolin, etc.

There are many phenols found in olive oil, and their properties are still being studied. For example, oleocanthal is a natural antioxidant with anti-inflammatory properties. It is also a vasodilator substance and may be responsible for low heart attacks in people who consume certified extra virgin olive oil.

What number of polyphenols does extra virgin olive oil contain?

As already mentioned, polyphenols are natural antioxidants found in extra virgin olive oil and high polyphenol olive oil. Polyphenols can be perceived on the palate with a bitter, spicy taste and fruity sensations.

But how many polyphenols does olive oil contain? The minimum quantity of extra virgin olive oil is 100 mg/kg, but in a higher concentration, 250 mg/kg is obtained. Over time its concentration decreases, depending a lot on the conservation method used to keep high polyphenol olive oil in optimal conditions for consumption.

Consequently, extensive scientific research has shown that there is currently a relationship between the content of polyphenols and the stability of olive oil. Especially in the antioxidant power that contains protection against its oxidation. Let's see below the process that We Olive carries out when making each of the bottles of olive oil:

●Prioritize quality: The extra virgin olive oil produced by We Olive stands out for meticulously choosing healthy olives at their optimum point of ripeness. By harvesting them like this, there are higher concentrations of polyphenols.
●Variety of Olives: When studying the polyphenolic properties that olives contain, olives are chosen with higher amounts of polyphenols. For example, Picual and Cornicabra have high polyphenol content, and Manzanilla olives have it in smaller quantities.
●Altitude: It is imperative to have a farm where olives are grown and produced at a height of 400 meters (1312 ft.) or more above sea level. This contributes to the oil having a higher phenolic content.
●Irrigation: Normally, farms that irrigate in large quantities produce oils with a lower content of total polyphenols. Therefore, the production of oils has to be in a place with deficit irrigation to obtain an oil with a higher phenol content.
●Conservation and packaging:Once produced, EVOO must be kept in good conservation conditions, avoiding oxygen, high temperatures, and light. The packaging is especially important since the bottles have to be opaque and dark so as not to let in the effect of light. If not, the polyphenol content would decrease, and the oil would oxidize.

Therefore, the production method that we conduct in olive groves stands out in the quality of California olive oil and in the power of the polyphenols that said oil contains. For this reason, when it comes to making the best olive oil, a specific and delicate process is carried out since the best green, and intact olives are chosen. They are pressed in the shortest possible time at a low temperature. The result is that the EVOO has less acidity and, of course, a higher polyphenol content.

Is it difficult to get authentic extra virgin olive oil?

When going to a supermarket or an olive oil store, it is essential that you choose a product of guaranteed quality since polyphenols can be scarce depending on the brand. For example, refined oils and brands that do not contain genuine or high-quality EVOO do not offer enough polyphenols.

Usually, the best way to identify those brands is through labels. In the United States, olive oils with a high level of polyphenols will contain a statement such as the following: "The polyphenols in olive oil contribute to the protection of blood lipids against oxidative damage ." Another indication is that authentic and certified olive oil products contain the year of harvest. The more recent the date, the more active polyphenols it will have.

Moreover, We Olive is certified by the California Olive Oil Council (COOC), ensuring that each EVOO bottle is authentic and provides the full health benefits you deserve. Thus, look for that seal as a guarantee of top-quality extra virgin olive oil.

If you are now wondering, how can I find the best olive oil store near me? You came to the right place! You can locate the closest We Olive to you or use this online store to shop for the best California EVOO, balsamic vinegar, and other outstanding gourmet foods and ingredients. If you want more information or have any questions about your order, you can call us at 805 238 29 00 or email us at info@weolive.com.